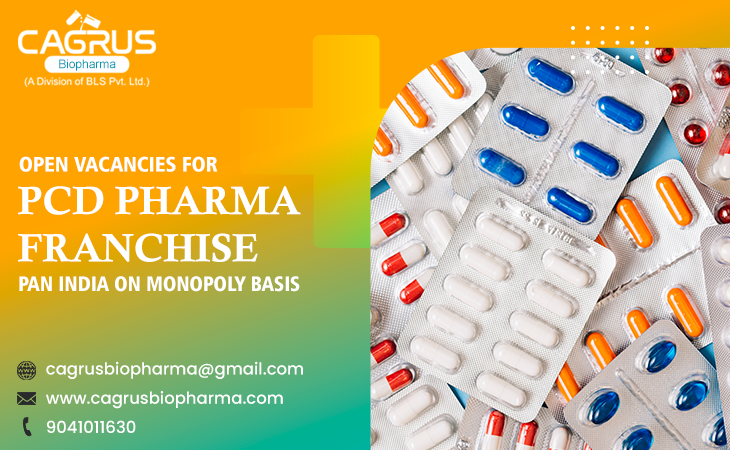 PCD Pharma Franchise Company in Andhra Pradesh - Cagrus Biopharma is Andhra Pradesh's best Pharma company that is ISO certified and adheres to all the guidelines of WHO & GMP while manufacturing its quality Pharma drugs. A great range of Pharma medications is offered by us and that too in different product types such as tablets, capsules, injectables, powders, syrups, and much more. The top PCD Pharma Franchise Company in Andhra Pradesh is offering the franchise opportunity in areas like East Godavari, West Godavari, Krishna, Guntur, Prakasam, and many more. This opportunity will consist of complete and exclusive monopoly rights. 
Our well-known Pharma company offers a great range of Pharma products such as anti-diabetic, cardiovascular, gynae, pediatric, antibiotic and many more so that we can serve the needy people in the best possible way. A great range of lucrative benefits is offered by us along with many promotional tools so that they can comfortably do this business on their own terms. A good number of Pharma experts are linked with us to assist us in making crucial decisions regarding the business opportunity that we offer. These are some of the reasons why we're known as the Top PCD Pharma Franchise Company in Andhra Pradesh.
Why Cagrus Biopharma Will Be The Best Option For You?
The Pharma Industry is showing good signs of growth and that's why it can be said that it's a reputable and profitable business to be done by anyone who is willing to invest their money in it. The person who will enter this business won't only get exposure but rather they will be able to earn a good amount of profits as the number of people suffering from many kinds of healthcare problems is increasing. So it can be said that it will be very beneficial for anyone who is going to invest in it. The various benefits that one will get by getting associated with us include the following things.
The manufacturing units of our firm are certified by WHO & GMP.
A great range of benefits is offered by us to all the associates that work with us.
Complete and exclusive monopoly right is given to almost all the associates.
More than 400 Products are offered by us.
The client can do the work as per his own likings to keep the business running which helps them to be their own boss.
A good number of logistics teams are associated with us.
We don't force any partner to complete any kind of sales target.
Our company has its own laboratories for the required research work.
The plant of our company is located in an excise-free zone.
The ordered products are dispatched on the same day.
Pharma Drugs Range Offered By Cagrus Biopharma
Our company is offering a wide range of pharma drugs by using which people have solved many of their problems. The reason behind this practice of offering a wide range is that we are well aware of the fact that every person needs a different kind of product to take. It also helps our partners to make a name for themselves and further to make a good amount of profit by selling the range offered by us. All the products which we offer are made ready after doing a commendable amount of research as we want to deliver the best possible thing to the final consumer. The range we offer to our clients includes the following:
Neuropsychiatry Range etc.
Beta-Lactam Tablets/Capsules
Pharma Injections
Nasal & Ear Drops
Herbal Ayurvedic Range
Anti-Diabetic
Cardiac Medicines
Ophthalmic Products
Antiviral Medicines
Derma Range
Antibiotic Medicine
Mandatory Terms and Conditions To Join Us For PCD Franchise Business
The Pharma drugs we offer to all the associates working with us are free from any side effects which can solve their health issues and are manufactured in such a way so that they can cure the health issues of the individuals. Our company has been doing this work for many years and that makes us a name to rely upon. Further, doing a business asks for some prerequisites without which one can't go ahead and the same prerequisites in the case of the pharma business are given below.
Mandatory conditions to get associated with us:
The individual must have a DLN.
A GST number must be there with the potential client.
The individual must have at least graduated in a medical field.
He must have at least 2-3 years of experience in the Pharmaceutical sector.
Terms & Conditions:
Prices of the products we offer can vary without any notice so it's your responsibility to confirm it before ordering.
The area of operation in which the client will work will be allotted as per the mutual discussion.
Selling in unallocated locations won't be allowed by us.
Locations Available for PCD Pharma Franchise Business in Andhra Pradesh
Our prestigious firm is offering a fruitful opportunity in the state of Andhra Pradesh which is the seventh-largest state in terms of the area covered. There is a great scope in this area because many people have already invested in it to gain some goodwill for their pharma business and the other ones have taken this step to earning a good amount of profit. To come up with the potential areas of doing the PCD Pharma Franchise business in this area, our experts have worked so hard and after that, we have made a decision to offer this opportunity in the following areas.
Visakhapatnam
Vizianagaram
Krishna
Kurnool
Prakasam
Chittoor
Nellore
Srikakulam
West Godavari
Guntur
East Godavari
Kadapa
Anantapur
We are waiting for some vibrant individuals who can help us in taking our business to new heights and in serving needy people. If you think you are the right fit for this role then let us know the same at the below-given details.
Contact Details
Name: Cagrus Biopharma
Address: Plot No. 219, Industrial Area, Phase-1, Panchkula - 134113, Haryana
Phone:  +91 90410 11630
Email: cagrusbiopharma@gmail.com.