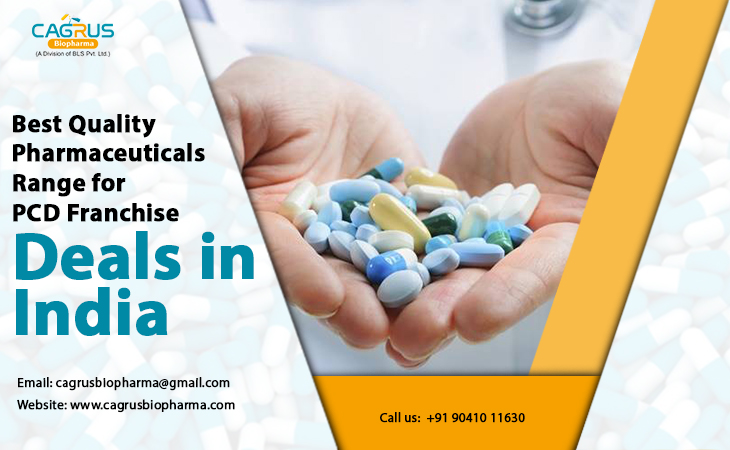 Best Pharma Pharma Franchise in Uttar Pradesh - One of the fastest-growing businesses in today's era especially in the Pharma sector is PCD Pharma Franchise. This business is a business model that gives many types of benefits to its investors like high returns, low investment, and many more. Keeping that in mind, Cagrus Biopharma is offering a PCD Pharma Franchise in Uttar Pradesh. Being a well-reputed Pharma company we offer various benefits to our associates like monopoly right, lucrative incentives, promotional tools and many more. Our business plan is genuine and completely transparent which makes us stand out from the rest.
Cagrus Biopharma is the top Pharmaceutical company that has a diverse range of Pharma Drugs that covers various aspects of healthcare. Our range includes Pediatric, Nutraceuticals, Beta-Lactam products, Ayurvedic, Derma, Antibiotic, and many more. We offer this range in various product types like syrups, tablets, capsules, oral suspension, injectables, gel/lotions, drops, and many more. Our organization is involved in the PCD Pharma Franchise Business for a long time, which makes us a name you should trust upon. Currently, we are looking for adventurous individuals who are having a medical background, relevant experience to work with us and grow together. 
So if you are interested in grabbing the above opportunity then don't wait anymore, pick up the phone and ring us now @+91 9041011630 or write @cagrusbiopharma@gmail.com.
Top Pharma Franchise Company in Uttar Pradesh - Cagrus Biopharma
Cagrus Biopharma has made its presence felt since its establishment in a very short period of time. The company is working for its sole motive i.e to serve mankind by solving all kinds of health issues. All the products that we offer are of top quality which is highly effective for getting relief from various health problems. Plus we carry on the manufacturing process in such a way so as to make it as effective as possible so that we can provide those products to our associates at a very affordable price. This is what makes us the Best in this game, keeping in mind the stake of both parties i.e. the clients as well as the end consumer. Along with it, we're backed by a group of well-trained staff that overlooks the whole production process and ensures that each and everything is going as per the plans or not. Following are some key points of our prestigious firm:
We have manufacturing units set up in excise-free zones which eases us to offer our products at a very fair price.
A number of associates have been linked with us for a long period of time. 
The company has employed only well-skilled workers which enables us to provide the best possible products.
The best logistics services are provided by us, as we value every second of our client's time.
Our firm also provides warehouse facilities to the needy ones in their local area.
Being an ISO certified Pharma Drugs manufacturing company we make sure to provide GMP & WHO certified products.
Top-Notch Pharma Products For Pharma Business
We offer more than 250+ Pharma products and that too having unique formulations. All of the pharma drugs that we offer have undergone various tests undertaken by our Pharma experts, because of which we are able to provide our clients with the best possible products. Our firm focuses on solving the problems of patients because of why we are a trustworthy name in the pharma sector. From day one, we have aimed on one prime motive and that is to provide quality products by using quality raw materials. It's our clients who told us that our drug range is very effective and much better than the competitive companies. Following give a brief view about the range/types of products that we offer:
Injectables
Antiviral Medicines
Nasal & Ear Drops
Anti-Diabetic
Neuropsychiatry Range
Ophthalmic Products
Beta-Lactam Tablets/Capsules
Cardiac Medicines
Locations Targeted For PCD Pharma Franchise In Uttar Pradesh
After making its name in other states of the country, Cagrus Biopharma is now looking to capture the remaining vacant areas in Uttar Pradesh. We are giving an opportunity to interested individuals who are looking to start their own business in the Pharmaceuticals industry. We will make sure to serve our clients with the best monopoly rights so that they won't face any unnecessary issues in the future doing the business. We will also provide them with the required promotional tools that are necessary in order to succeed in this business. Following is the list of vacant areas that we are looking to capture:
Lucknow
Varanasi
Mirzapur
Moradabad
Agra
Aligarh
Kanpur
Gorakhpur
Allahabad
Meerut
Jhansi
Bareilly
Basti
Faizabad
If you are confident that you can be the right fit for this requirement of ours, then don't wait and contact us now.
Contact Info
Name: Cagrus Biopharma
Address: Plot No. 219, Industrial Area, Phase-1 Panchkula - 134113, Haryana
Phone: +91 90410 11630
Email: cagrusbiopharma@gmail.com