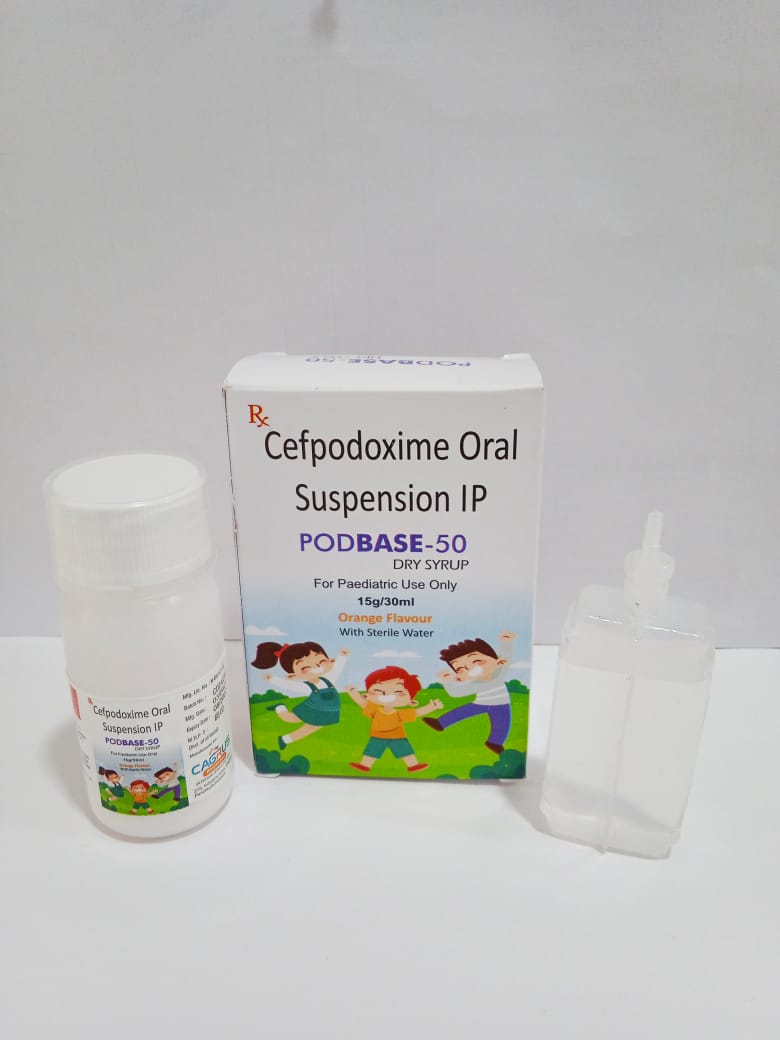 Brand Name: PODBASE-50
Composition : Cefpodoxime 50 mg
Packing : Dry Syrup with water
Price : Rs. .
Quick Enquiry
See More
Please Contact Us
Description of Cefpodoxime Dry Syrup (PODBASE)- Antibiotic medication Podbase Suspension. It's routinely given to kids to treat a variety of bacterial infections that affect their ears, eyes, nose, throat, lungs, skin, gastrointestinal tract, and urinary tract. It can also be used to treat typhoid fever in children and teenagers. Cefpodoxime, a prescription medicine used to treat a range of bacterial infections, is used to make this Dry Syrup. Cefpodoxime is a type of antibiotic known as cephalosporin. It works by preventing bacteria from growing.
Usage
Infection-causing germs in your body are killed by Podbase Dry Syrup. This drug is used to treat infections of the brain (meningitis), lungs (pneumonia), ear, abdomen, urinary tract, bones and joints, skin, blood, and heart, among others. This medicine normally makes you feel better within a few days, but even if you feel better, you should continue to take it as directed. Stopping it too soon may cause the infection to return and become more difficult to cure.
Precaution
Tell your child's doctor about any allergies, heart problems, blood disorders, birth defects, airway blockage, lung abnormality, gastrointestinal trouble, skin disorder, liver impairment, and kidney dysfunction your child has had in the past. This information is crucial for dose adjustments and treatment planning for your child.
Direction
Give your child this medicine an hour before or two hours after meals. If your child's stomach is upset, it's best to give it food. Make sure you stick to the suggested amount because it is calculated based on the type of infection, its severity, and your child's age and weight. If your child gags and vomits the drug within 30 minutes of taking it, repeat the dose, but do not double it if the next dose is due.
Side Effects
Vomiting, diarrhea, nausea, rash, and headache are some of the minor and transitory adverse effects of this medication. These bouts usually go away as your child's body adjusts to the medicine. However, if these side effects continue or become uncomfortable for your kid, see a doctor as soon as possible.
Cefpodoxime Dry Syrup Manufacturer and Supplier in India
Cagrus Biopharma is an ISO-GMP accredited pharmaceutical company that produces high-quality, dependable products. The company owns GMP-WHO manufacturing units and adheres to strict international standards while developing a variety of medicinal solutions in accordance with efficient QA/QC requirements. Each unit is created under the supervision of a professional. For the PCD Pharma Franchise Business in India, the company offers a wide selection of pharmaceutical products. So get in touch with the company and benefit from the greatest services available all over India.