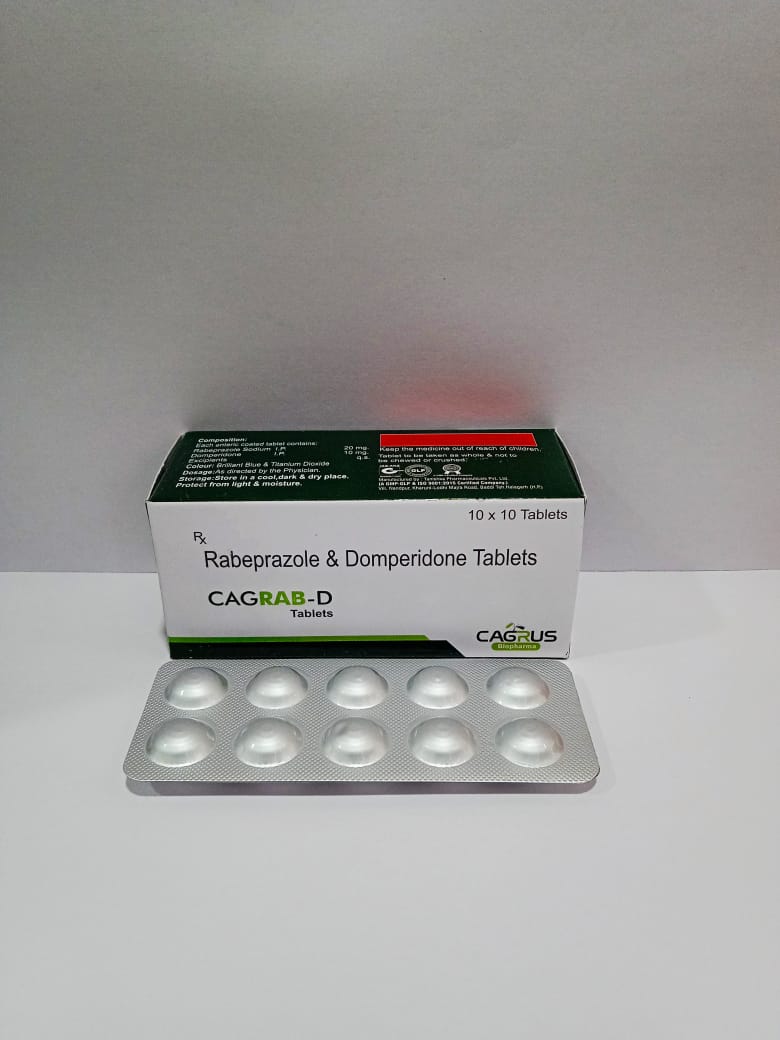 Brand Name: CAGRAB-D
Composition : Rabeprazole 20 Mg + Domperidone 10Mg Tablets
Packing : 10 X10 Alu Alu
Price : Rs. .
Quick Enquiry
See More
Please Contact Us
Description of Rabeprazole + Domperidone Tablets - Cagrab-D is a combination of Rabeprazole and Domperidone used to treat gastrointestinal problems. They work together to lessen the quantity of acid produced by your stomach, as well as the feelings of nausea and vomiting. It relieves hyperacidity-related acid reflux, stomach ulcers, and Zollinger Ellison syndrome. Apart from that, which is utilized to treat symptoms of gastroesophageal reflux illness in the short term (GERD). It is a disorder in which the sphincter (valve) at the top of the stomach becomes irritated and damaged as a result of too much stomach acid.
The tablet comprises two medications: Rabeprazole and Domperidone. Rabeprazole is a proton pump inhibitor that works by stopping the activity of an enzyme to reduce stomach acid. This gastric proton pump is found in the cells of the stomach wall and is responsible for the production of gastric acid secretion, which damages the food pipe, stomach, and duodenal tissues. Domperidone, on the other hand, is a prokinetic drug that enhances upper gastrointestinal tract motility while blocking the vomiting causing centre.
Uses
GERD (gastroesophageal reflux disease) is a chronic (long-term) condition in which the stomach produces too much acid. Peptic ulcer disease is a condition in which the inner lining of the stomach or gut develops painful sores or ulcers (intestine). Rabeprazole + Domperidone Tablets lower the amount of acid produced by your stomach and treat heartburn and acid reflux symptoms.
It further prevents ulcer damage as it heals naturally. Depending on what caused the ulcer, you may be prescribed additional medications in addition to this one. Even if the symptoms seem to go away, you must continue to take the drug as directed for it to be successful.
Side Effects
Rabeprazole + Domperidone Tablets are safe to use and does not have any severe side effects. In case you feel any symptoms arising, get in touch with your doctor. Some common side effects of the tablet include:
Flu-like symptoms
Headache
Weakness
Flatulence
Stomach pain
Dryness in mouth
Dizziness
Diarrhoea
Precautions
If you are allergic to proton pump inhibitors, have gastric cancer, liver illness, low magnesium, low vitamin B12, are pregnant or planning to become pregnant, or are breastfeeding, you should avoid taking the tablet. Long-term usage of Rabeprazole + Domperidone Tablets can result in lupus erythematosus, vitamin B-12 deficiency, and magnesium deficit.
For it to be effective, you must take it exactly as directed. Simple lifestyle adjustments can help alleviate GERD symptoms. Consider which foods cause heartburn and avoid them; eat smaller, more frequent meals; lose weight if you're overweight, and find ways to relax. Eat no more than 3-4 hours before going to bed.
Dosage and storage
Take the pill 1 hour before the meal with a glass of water.
Swallow the tablet as a whole without crushing or chewing.
Take the medicine for as long as your doctor prescribes you.
Keep the tablets away from children's reach and direct contact with sunlight.
Rabeprazole and Domperidone Tablets Manufacturer and Supplier
Cagrus Biopharma is the most reliable pharma franchise company in India to offer the most genuine and reliable PCD Franchise Business service across India. Our products are formulated with 100% pure and safe raw extracts. We have the best R&D team who is engaged in the production of our topmost quality formulations which are highly verified by ISO, DCGI, WHO and GMP. Our company offers the most genuine franchise services and welcomes all interested and eligible people.