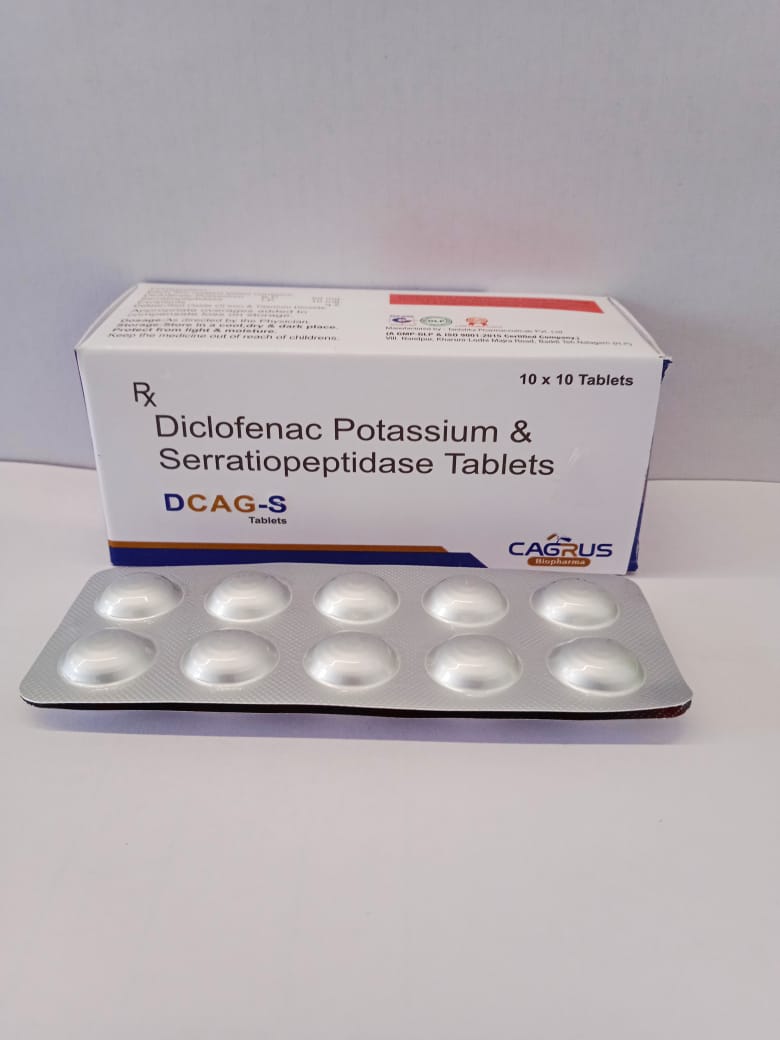 Brand Name: DCAG-S
Composition : Serratiopeptidase 10Mg + Diclofenac Potassium 50Mg Tablets
Packing : 10X10 Alu Alu
Price : Rs. .
Quick Enquiry
See More
Please Contact Us
Description of DCAG-S (Serratiopeptidase 10Mg + Diclofenac Potassium 50Mg Tablets)- DCAG-S is a combination of the two pharmacological classes Diclofenac Potassium and Serratiopeptidase, which is used to alleviate pain. Diclofenac Potassium is a non-steroidal anti-inflammatory medicine (NSAID) that acts by preventing the release of pain-causing chemical messengers in the brain (redness and swelling). Serratiopeptidase is an enzyme that aids healing by degrading aberrant proteins at the site of inflammation.
Uses
Diclofenac Potassium+Serratiopeptidase Tablet is a combination of medications intended to relieve pain, inflammation, and swelling in the short term. It prevents the release of chemical messengers in the brain that alerts us to the presence of pain. Back pain, toothache, periods of pain, earache, throat pain, and arthritis pain are all efficiently relieved by it.
Precaution
Women who are pregnant or breastfeeding should seek medical advice before beginning treatment. You should also avoid consuming alcohol while taking this medication because it can cause sleepiness.
Direction
You can take Diclofenac Potassium +Serratiopeptidase Tablet with or without food. The dosage will be determined by the reason you're taking it and how well it relieves your symptoms. You should follow your doctor's instructions. Do not take more or use it for longer than the doctor has prescribed.
Side Effects
Nausea, diarrhea, vomiting, heartburn, stomach discomfort, indigestion, and loss of appetite are the most typical side effects of this medication. If any of these side effects annoy you or become worse, contact your doctor. Your doctor may be able to advise you on how to avoid or mitigate the negative effects.
Contact for Serratiopeptidase 10Mg + Diclofenac Potassium 50Mg Tablets Manufacturing and Distribution Services
Cagrus Biopharma is a well-known and recognized pharmaceutical company in India. Biophar Life Sciences Pvt. Ltd, a reputable pharmaceutical company, has certified us as an ISO division. Because of its high-quality drugs and world-class franchise services, the company is India's fastest-growing pharmaceutical company. And this business is a Diclofenac Potassium+Serratiopeptidase Tablet provider. The company is doing a terrific job with over 250 unique formulations. So get in touch with Cagrus Biopharma for high-quality pharmaceuticals and PCD Franchise Business prospects in India.