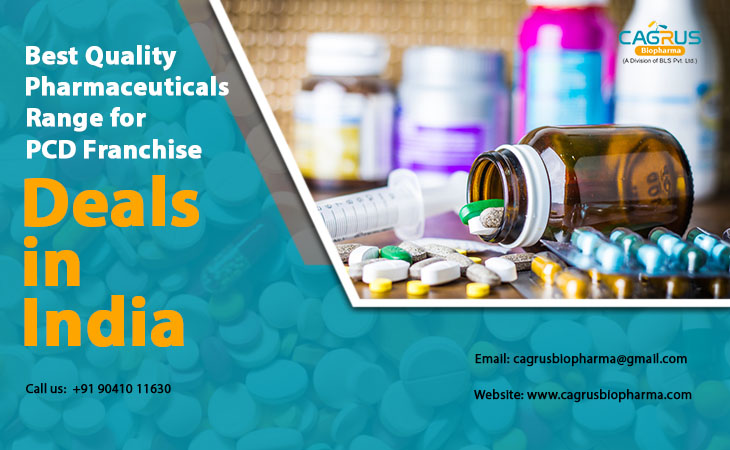 Top PCD Pharma Franchise Company In Delhi - Cagrus Biopharma is among the clutch of companies that are offering its quality rich products to all the pharma professionals who will get linked with us. Being a customer-centric firm we are committed to delivering all possible services to the associates linked with us and that makes us the Top PCD Pharma Franchise Company In Delhi. The franchise opportunity provided by us is offered in areas such as North Delhi, Northwest Delhi, Northeast Delhi, South Delhi, Southeast Delhi, Central Delhi, and many more areas.
The needs of the society are first being understood by us and accordingly WHO, GMP accredited pharma products are offered by us. Cutting-edge technology which is lubricated at a regular interval of time is utilized by us. The raw material is sourced by us from trusted sources in the pharma field. A great range of promotional tools are also provided and different incentives are also given as per the performance of the linked associate. 
Don't wait any longer and get linked with the Top PCD Pharma Franchise Company In Delhi and enjoy doing a monopoly-based business. Call us at +91 90410 11630 or directly write @cagrusbiopharma@gmail.com.
Why Invest in A PCD Pharma Franchise Business In Delhi
The scope of investing in a Pharma business is very wide as one having a medical background can easily earn a lot of money by doing the same. There are different options that are made available in this very field but the one that is opted for by many individuals is the pharma franchise one. It offers a great opportunity to its users so that they can grow along with the parent company. Plus there is no region in the world where medicines aren't required. 
Delhi is a very populated and well-known city and a union territory of India which is seeing a huge increase in the demand for various pharma products of various ranges. In many reports, it was stated that only 29% of the people were able to get quality pharma products from the companies and the leftover people had to use cheap ones. That's why we have come forward as a leading pharma company that is offering its pharma franchise opportunity in India.
Quality Effective Pharmaceuticals Offered By Cagrus Biopharma
Offering quality rich pharma products is a must for us as we don't want to compromise on this part. This is one of the most important features that one looks for prior to investing in it. We don't tend to work as per the standards that other companies follow as we strive to become better over the period of time by following the various global standards that help us to make a unique name in the market. Proper resource utilization is done by the organization so that the final product comes out as per the expectations of the client and the end customer that is going to use our products.
Our manufacturing facility is accompanied by hi-tech machines that operate on the latest technology.
The spacious warehouse is used by us to store the final goods that we produce.
Quality inspection specialists are there in our firm to look after the manufacturing work.
Regular lubrication is being done on all the machines and equipment so that the best possible performance can be taken from the same.
Promotional Tools Offered For An Extensive Marketing Support
Just offering the pharma products won't do any good to the franchise partner that is linked with us. That's why we also offer a wide range of promotional and marketing tools that assists our linked partners to do a reputable and profitable business with us. Using the offered tools, the already linked professionals working with us have already made their name felt across the nation as they were nominated with various recognitions and awards. The promotional tools work as a helping hand for the linked partner as it creates brand awareness in the mind of the general public who is going to be the end-user of the product. Have a look at the promotional tools that we offer.
Final Sample Products
Marketing Bag
Visual-Aids
Drug Promotional Literature
Chemist Order Book
Visiting Cards
Reminder Cards
Company Letterhead
Vacant Areas For Doing Business With The Top PCD Pharma Franchise Company In Delhi
Cagrus Biopharma is welcoming various pharma professionals across the city of Delhi to come forward and get in touch with us for the pharma franchise opportunity. We are looking for hard-working and enthusiastic individuals who have a medical background and some amount of relevant working experience in the pharma sector. The linked parties will work in collaboration with us to offer our quality rich pharma products so that the same can be delivered to all the deserving and needy individuals. This pharma franchise opportunity will be very beneficial for all those who are keen on doing their own business under the guidance of our experts. Following are the areas in which we are offering the opportunity for the PCD Pharma Franchise Business in Delhi.
| | |
| --- | --- |
| New Delhi | West Delhi |
| Shahdara | South Delhi |
| East Delhi | Central Delhi |
| North Delhi | Dwarka |
| Defence Colony | Shahdara |
| Rajouri | Garden |
| Saket | Preet Vihar |
| Seelampur | Kanjhawala |
Contact Details:
Name: Cagrus Biopharma
Address: Plot No. 219, Industrial Area, Phase-1, Panchkula - 134113, Haryana
Phone:  +91 90410 11630
Email: cagrusbiopharma@gmail.com.